Home Health Aide
A Home Health Aide is a trained paraprofessional prepared to assist professional personnel care and home management as related to comfort, care and safety of a client in a home. Duties and responsibilities include but are not limited to the following:
Employment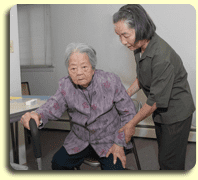 Supervises ADL's (Activites of Daily Living).
 Assists and encourages client to follow prescribed exercise program which may include range of motion (ROM) exercise and ambulation.
Provides and assists with skin care by turning and positioning client as prescribed, and providing care to pressure point areas.
Assists and guides client in transfer process from bed to chair, to commode or other devices.
Assists in giving client bath, whether complete, partial, tub or shower.
Observes and reports changes in skin condition.
Provides or assists in oral hygiene and hair care.
Takes and records temperature, pulse, and respirations.
Changes simple dressing (non-sterile) dressings only) and reports changes in wound status.
Shops for food and household supplies.
Plans, prepares, and serves meals according to dietary instructions.
Maintains a clean and safe environment for client by performing household services.
Uses and maintains special equipment and supplies appropriately.
Performs only those duties on care plan except when instructed otherwise by clinical supervisor.
CORI and References Required.
Call us at 617-426-1628 for an interview now!