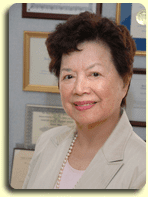 Ruth C. Moy
President
Member
Supplier Diversity Office (SOMWBA) and Home Care Aide Council

Approved by Commononwealth of Massachusetts Executive Office of Elder Affairs
Midtown Home Health Services, Inc. was organized in 1981 through the efforts of its president, Ruth C. Moy. With a background in human services, she has been helping the elderly of greater Boston for more than thirty-five years.
Recognizing the urgent need for home health services in the ever-changing face of health care, she has developed the company from a handful of clients receiving homemaker services, to a culturally diversified organization, which provides hundreds of elderly and disabled clients and their families with an innovative array of services designed to encourage and support independent living.
"We are proud of the quality of life we provide for our clients. This can only be accomplished through the dedicated effort of our diverse staff of home healthcare professionals."
If you have concerns about the care of an elderly or disabled family member, we are here to help. We are committed to providing quality services that enable our clients to remain in their homes and live independently.
Experience the satisfaction of making a meaningful difference in the life of your loved one.
Just call Midtown – we are the people who care!